When you have multiple children it can be difficult to get one to one time with each child. At the moment my twins are in preschool two full days a week, which means I get two afternoons after school alone with BB. These are my last couple of weeks with this situation, as my girls will start school in September. I want to make the most of the one to one time I have left with BB.
Last week, we decided to cook together. We chose to make these Rocky Road crunch bars from Nigella. They were definitely right up BB's street! They were very easy and tasted gorgeous!Rocky road crunch bars.
Ingredients
125g Soft butter
300g Dark chocolate
3 Tbs Golden syrup
200g Rich tea biscuits
100g Mini marshmallows
Icing sugar for dusting
Making Rocky road crunch bars…
Firstly, BB loved breaking up the chocolate into chunks and putting it into a saucepan.
He then added the butter and golden syrup before the obligatory licking of the syrup spoon!
We then gently melted the butter, chocolate and syrup on a low heat. Once melted we took out 125ml of the mixture and put it to one side for later. We put the rich tea biscuits in a zip lock bag and bashed them, breaking them all up into a mixture of chunks and crumbs. I think this was BB's favourite part.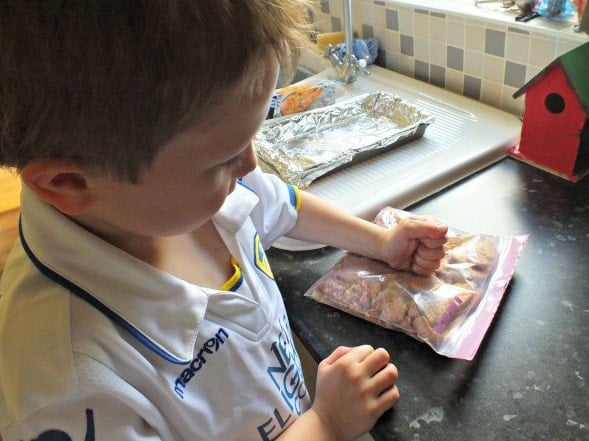 BB added the biscuits to the chocolate mixture and then gently stirred in the marshmallows.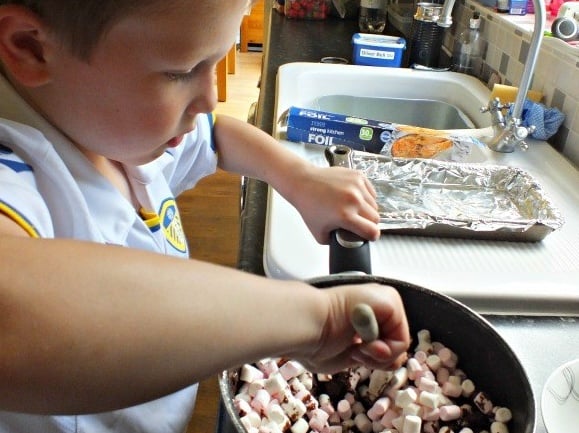 Once all mixed in, we poured the mixture into a foil lined tin and flattened it down. We poured the remaining melted chocolate we set aside earlier over the top.
This was then refrigerated for a couple of hours before being cut into squares and dusted with icing sugar.Rocky road crunch bars.
These rocky road crunch bars tasted absolutely delicious! We will definitely have to do these again, though not too soon as I can't imagine the calories in them!
It was a really lovely time we spent together and BB kept saying throughout, "I love cooking with you mum"! Well, that's enough to melt my heart, let alone the chocolate! I would seriously recommend remembering to spend some one to one time with your children whenever you can.
See Also
---