Cooking with children can be very difficult and messy, however, I can promise you, it does get easier, the older they get. I remember how stressed I used to feel when trying to bake a single cake with my three little ones. It was fun and I enjoyed the baking sessions, but it was not easy, so we didn't do it too often.
This week, I baked a chocolate cake with BB (aged 6) and it was so noticeably easier than I remember before. He wanted to bake a chocolate cake with marshmallows, sprinkles and a cherry, to be precise. Initially I thought, ooh, that doesn't sound like the best combination. The I had a rethink and said ok.
I had everything prepared ready for us to bake straight after school. This is the chocolate cake recipe we used:
Chocolate Cake Ingredients
225g Soft margarine
225g Caster sugar
225g Self-raising flour
2 tsp baking powder
2 tbsp cocoa
3 tbsp boiling water
4 Eggs
Filling
50g Soft margarine
175g Icing sugar
1 tbsp Milk
Cocoa (I took a couple of spoons of icing sugar out and replaced it with cocoa)
We pre-heated the oven to 180 degrees and greased and lined two round tins.
We blended the cocoa and boiling water, then left it to cool slightly.
All the rest of the ingredients went into a large mixing bowl and we mixed. BB enjoyed the mixing as I normally just stick it all in the food processor (it's soooo much easier and quicker), but this time I thought half the fun is the mixing, so let's do it by hand. However, this did take a lot of effort and I even got two blisters on my hand in the process.
We added the cocoa mixture and finished stirring it all together, before dividing the mixture between the two lined tins.
It went in the oven for 25 mins.
We then made some chocolate butter icing for the middle and top by mixing the margarine, milk, icing sugar and cocoa. BB spread the icing on the cake. This was his first time and loved it.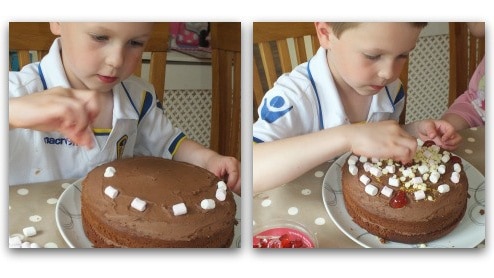 BB then got to do the best part….decorating. He placed mini marshmallows round the edge, sprinkles in the middle, then dotted cherries throughout.
It was definitely a different cake, but it actually tasted really delicious. It was so light and moist. I love the fact that it was BB's creation of what he had in mind. We had a lovely time baking this cake and it was a real pleasure to make it together.
See Also
---