Children must be responsible for 95% of the clutter in any one household! And as their rooms are often not the largest rooms in the house, it can be a never-ending battle just to remind yourself what colour their carpet is! Luckily there is a plethora of storage ideas out there that are fun, innovative and cheap and therefore ideally suited to your child's room.
Sometimes storage solutions can clutter up a child's room just as much as their toys and games and if you have a zillion different places for different items then tidying up becomes a logistical nightmare and your child simply won't bother.
Effective storage solutions should be simple, basic and easy to use. Whilst nothing is easier than just leaving a toy or yesterday's clothes on the floor, at least if we provide bright, fun and decorative children's storage then they might just find tidying it all away less of a chore.
Stackable Storage
You'll never have enough floor space, so units which stack together are ideal. These painted wooden trunks are one solution although you don't have to spend so much money.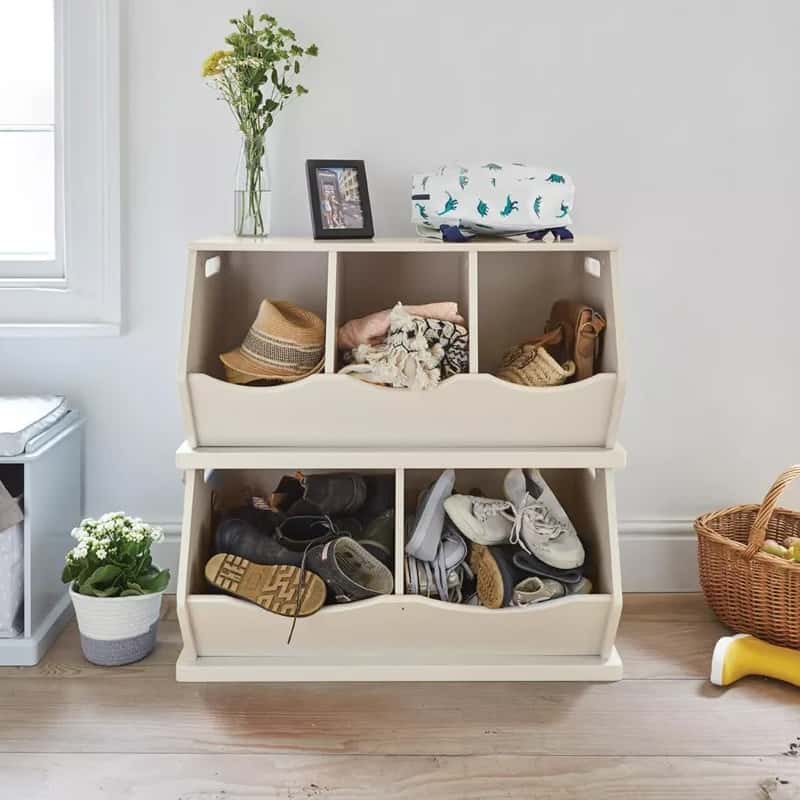 See through, stackable storage is a cheap and effective way to enable children to see exactly what is inside each box. You could have one box for Lego, one for Play Dough, one for cars and so on. And because they stack on top of each other, they don't take up all of the floor.
You can even get modular type stackable storage units where the transparent containers slide out like drawers providing easy access.
Toy Boxes
Toy boxes are are an obvious solution and there are so many different kinds now that you are spoilt for choice. It's usually wise to avoid plain toy boxes with a hinged lid though as there is always the temptation to leave things on top of the toy box, thus making it impossible to open the lid without making further mess.
Far better are the toy boxes that act as two separate pieces of furniture such as storage benches or chairs so that your child is provided with a place to sit and read as well as a handy toy box.
Or you can get themed and personalised toy boxes that are bright, fun and will fit in with a room's theme, such as a pirate's treasure chest or doll's house. They make the tedious task of tidying a lot more fun!
Hooks and Hangers
I'm a great believer in hooks and have them everywhere in my house! Children are terrible when it comes to putting clothes away and very often you will find unworn clothes thrown onto the floor, trampled on and creased. That's if you can find them under all the jackets and bags!
Yet you can get some great hooks and hangers for children's rooms that will fix onto doors, walls and the inside of wardrobes to store clothes, jackets and bags neatly out of the way, saving you on yet more washing and ironing! And if you think hooks aren't much fun, think again!
There are character shaped hooks, traditional school-type hooks, ornate hooks, personalised hooks, themed hooks and so on! So there really is no excuse for them to use their floor as an extra wardrobe.
Book Shelves
Such a versatile storage solution and there are so many available. Shelves are great for storing tubs and boxes of toys as well as books and other knick-knacks. Just ensure that if you do get some independent book shelves, that they are securely fastened to the wall to prevent nasty accidents.
Every child should have his or her own bookshelf filled with their favourite books and enough space to showcase their special photos, pictures and other creations.
Hanging Storage
Designed for storing folded clothing and underwear these fabric organisers that hang in a wardrobe are hard to beat. Kid's often like the funky designs and bright colours too.
If your child is a hoarder of cuddly toys then hanging net storage tubes or bags are ideal! They can hang from a hook or from the ceiling and have separate compartments to keep toys safe. Best of all they come in many colours so you can choose one to suit their room.
Underbed Storage
There are no monsters in our house — they can't fit under the bed! Very often this space is wasted, serving only to annoy us when we try to vacuum underneath the bed.
But excess bedding can be stored underneath beds in large storage bags or you can buy plastic tubs that just slide under the beds and are useful for board games, arts and crafts and other toys. Best of all it encourages children to hide clutter under their beds which is what they enjoy doing most!
So when it comes to kids storage ideas just be prepared to think 'out of the box' and make sure that your storage doesn't become a problem in itself!
See Also
---