Children love playdoh and they love cooking, so how about combining the two activities and make marzipan sweets? Here's our marzipan fun…
I gave my girls a bowl with marzipan in each and added some red food colouring. They spent ages squashing it and mixing it all in. We did have very red hands after, but hey, that's always a sign of a good activity!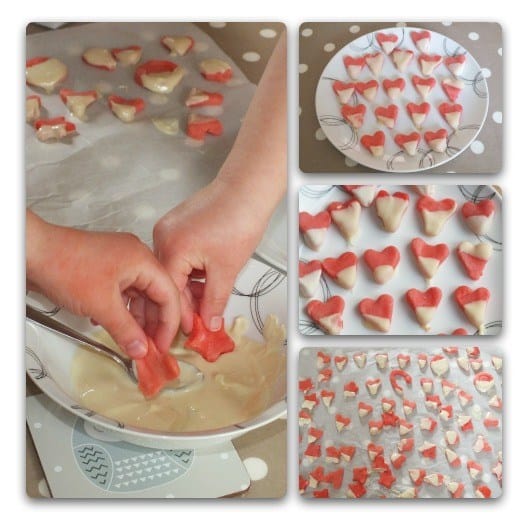 Once the red was mixed in properly, we rolled it out onto the table (you do need to sprinkle a little icing sugar on the table or it will stick). They loved using their rolling pins, just like when they play with play doh. This took a bit of time, purely because they enjoyed it so much. After rolling it out, we cut shapes from the marzipan. This was actually much easier than I thought it would be and in fact, easier than play doh.
We then melted some white chocolate in the microwave (10 secs at a time to prevent burning) and dipped the marzipan in the chocolate. We placed them on a piece of grease proof paper and then in the fridge to harden.
I wasn't sure the children would actually like the marzipan, but as always they proved to me they are not fussy eaters and LOVE them!
Once the marzipan sweets were made, even more excitement developed, by the thought of doing the washing up! I can't tell you how much they wanted to do it. So of course this then provided lots more fun as they did the washing up singing the I can cook song. I stood back and relished in the cuteness of it smiling to myself.
This was a lovely fun activity we could all do together, that you can eat afterwards!
Alternatively, the children could model and mould things like they do with playdoh instead of using cutters, which I think we will try next time, so they get to use their imagination too.
See Also
---