For our fairy and wizard week, I wanted to do something with food for a change, so I decided we could make some edible fairy and wizard wands. Here's how…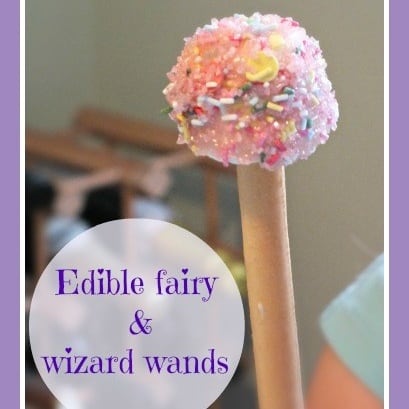 Ingredients:
Breadsticks (the thinner the better)
Marshmallows
White chocolate
Sprinkles – sparkly for fairy, maybe chocolate for wizard
How to the make wands
Melt the white chocolate in the microwave. I generally do 10-20 seconds at a time, so as not to burn it.
Push a marshmallow onto the end of the breadstick. Be careful doing this, I broke quite a few in this process.
Dip the marshmallow in the melted chocolate, so as to cover it.
Then dip it into the sprinkles.
Then you have a lovely edible wand!
My children did enjoy making these and especially eating them! However, I would say, it's not easy pushing the marshmallow onto the breadstick, so be prepared.
You may also notice in my ingredients picture there are some strawberry laces. They were meant to be tied around the wands, but the ones we bought were too thick, so it didn't work, but if you buy some thin ones it would make the wands even better.
See Also
---