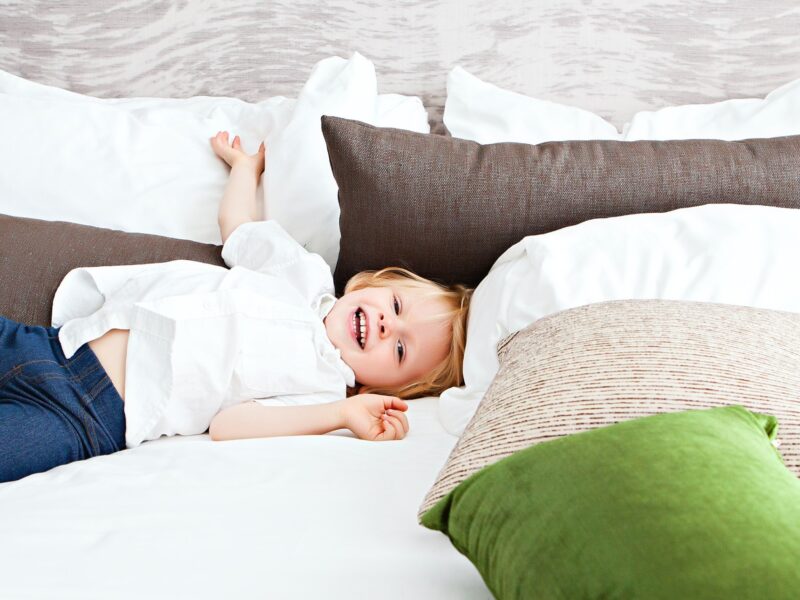 As your child grows and gets bigger, at some point you'll need to consider when you'll move them up to a bigger bed. If you're unsure when you should think about doing this, then here are some ideas.
Children go through various periods of transition throughout their childhood, as they grow up, mature and move on to new experiences.
One of these periods of transition is the point at which they move up to a bigger bed. Knowing when to make the move to a larger bed isn't something that's always instantly recognisable and it won't occur at the same time for every child.
For example, although your child may have grown considerably, or now have mastered the ability to climb out of his cot on his own, it doesn't necessarily mean that you need to rush out to buy a bigger bed straight away.
On average, parents typically move children up to a bigger bed between the ages of two and three and a half years old, but the exact timings depend on a number of factors.
Issues to Consider
Safety is one important issue to bear in mind. Although your child may be climbing out of his cot in the morning, you need to think about whether or not they'd actually be safer in a larger bed.
If you move them up too soon, there's always the danger that they could fall out of a bigger bed and find it too large for their age.
Some parents find they have to suddenly start thinking about letting a child move up to a new bed due to the impending arrival of a new baby.
If they baby will require the cot, then do ensure your child is ready to move up, rather than just assuming they are. It's also advisable to introduce the change a few weeks before the new baby arrives, so that they've got time to adjust and get used to their new bed, before all the extra changes that the baby will inevitably bring.
Helping the Bed Transition Go Well
When you feel the time is right for your child to move up to a bigger bed, then there's plenty you can do to help the process go well and ensure they settle in well to their new bed.
It's a nice idea to help your child choose the bedding for their new bed (or even the bed itself, if you haven't already bought it). By choosing their own duvet cover, in a design or colour they like, really helps encourage them to want to use the bed and enjoy being in it.
Let your child know what an exciting transition it is to be moving up into a big bed.
If they don't seem entirely keen, then try out sleeping in the big bed for an afternoon nap, or for a couple of nights per week before introducing it every day.
Try and keep to the same and familiar bedtime routine that they're used to and include the same toys around the bed.
If your child is finding it hard to adjust, then taking a blanket from their cot in with them to their new bed can help. However, try and discourage this from becoming too much of a long-term comforter.
See Also
---