Most children enjoy some form of art and craft occasionally. Some children love it and would spend hours drawing and crafting, while for others, it's more of a quick art session before moving onto something else.
Some parents love crafting with their children, while others loathe it. Whatever category you fit in, I believe it is a good idea to have a small selection of essential art and craft materials for either those quick crafting moments or those full on art and craft sessions.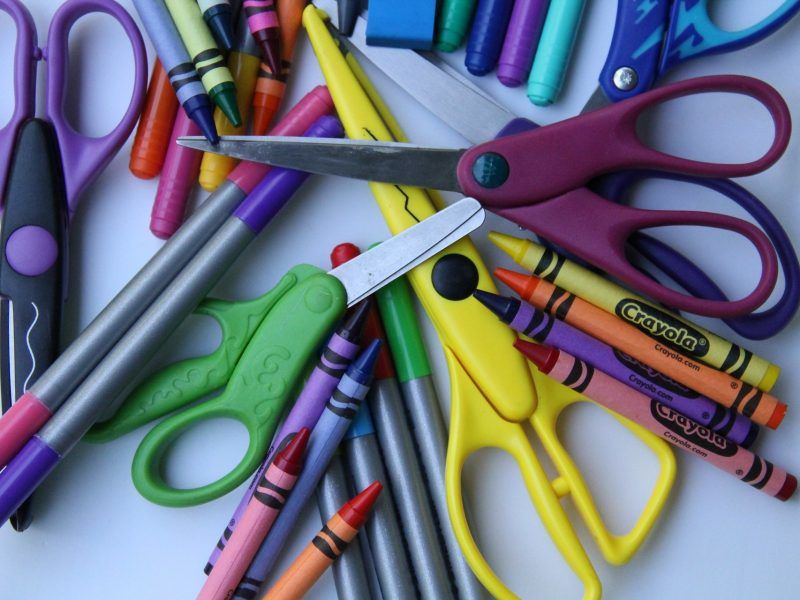 If you are new to art and craft, it can be difficult to know where to start with your little ones, so here are my tips:
Basic craft box essentials, for parents of toddlers and preschoolers upwards, to help you get started:
Paper – you need lots of paper, I buy supermarkets value printer paper
Card – you could buy some from the supermarket or you could cut up the sides of cereal boxes for free and store them
Washable pens – with toddlers, washable is essential! Crayola do lots of good pens
Pencils/crayons – a selection of colours
Poster paints – Child friendly ones, most supermarkets sell a good selection
Brushes – one or two of differing sizes
Non-spill pots – essential with toddlers
Apron – Essential for toddlers if you don't like mess
Children's scissors – Maybe more for preschoolers, but a very good essential to have ready for children to learn some scissor skills
Glue stick
Pva glue – and maybe a glue spreader
Sellotape – you might also like masking tape as that can be easier for little ones to use
String
Tissue paper – a selection of colours
Googly eyes – always good for when making some random junk model monster or animal
Pipe cleaners
Pom poms
This basic craft box essentials list will help you get started. You can create lots of things just using these essentials. However, you might also like to keep a box of recycling extras to hand, which I find is fantastic for a bit of junk box modelling or putting together a random craft that children want to do at the last minute. Here are my suggestions for things you might like to keep to hand:
Recycling extras
Cardboard boxes/cereal boxes
Plastic lids
Toilet roll tubes
Kitchen roll tubes
Plastic trays
Old wrapping paper
Old greetings cards
Old magazines/newspapers
Egg boxes
Old ribbons
Plastic bottles
Roll of old wallpaper
The list here is endless, just look at what you are throwing out and think….could this be made into something? I also use plastic lids for putting paint in and mixing etc.
Having set up these craft boxes, you will always have everything you need to hand for whenever the moment is right for a bit of art and craft. It is always good to have something up your sleeve for those rainy days.
With these two lists of essentials, there are so many things you could make from junk box modelling of caterpillars, monsters, animals or vehicles. You could try our nature monsters or spiders, or how about some easter skittles?
How about some potato printing or finger painting?
You could go on a nature walk to collect things nature provides e.g. conkers, pinecones, leaves etc, bring them home and see what you can make with them.
Children often like to create their own art and craft. Why not show them the materials and see what they come up with. It can be fascinating to watch. Sometimes they will create wonderful masterpieces, while other times, you will not have a clue what it is, but that doesn't matter. It's not about the finished product, it's all about the thought, the fun, the imagination and creativity that went into it.
---