The Fizzbook originally appeared on the scene back in 2008, a re-badged version of Intel's Classmate PC, the Fizzbook offered a practical alternative to traditional laptops and netbooks and bridged the gap between learning aids such as the VTech range of learning computers and fully-grown and hi-spec laptops.
The Classmate
Part of the Intel Learning Series the Classmate is a rugged, affordable, student-friendly netbook with full PC functionality.
Designed to be an engaging, interactive way for students to absorb information and create content as well as giving teachers the tools to individualize instruction and foster problem-based learning.
The Classmate is now been used in educational establishments worldwide and has evolved from a simple concept to a full range of educational standard technology solutions.
Fizzbook Bang
The 8.9-inch Bang was the first laptop to be released under the Fizzbook name and was originally conceived as an affordable and durable netbook computer aimed squarely at young children.
Using the Windows XP operating system and with a workable 1GB of RAM memory the Fizzbook Bang was the first practical alternative to a traditional laptop or netbook computer for kids.
The Bang was also available with solid state flash memory which made it more practical for young kids as it was less liable to be damaged when dropped or knocked.
The Fizzbok was first unveiled in a Sun article back in August 2008 and was heralded as a £199 laptop computer suitable for kids.
Fizzbook Specification with Conventional Hard-Drive
Screen size: 8.9" /1024 x 600 LCD
Operating System: Windows XP
Memory: 1Gb
Storage: 30Gb Disc Drive
Processor: Intel Atom 1.6GHz
Web Cam: 0.3 megapixels
Screen Size: 8.9″ 1024 × 600 colour LCD Monitor
Web cam: 0.3 megapixels
Wi-Fi: 802.11 b and 80.11g
USB: 2 USB 2.0 ports
Flash Card: SD card reader
Battery Life: 4½ hours max
Size: 238 mm× 195 mm × 42 mm
Weight: 1.39 Kg
Zoostorm Fizzbook Go 8.9" Screen with 4Gb Flash Drive
Screen size: 8.9" /1024 x 600 LCD
Operating System: Windows XP
Memory: 512Mb
Storage: 4Gb Flash Drive
Processor: Intel Atom 1.6GHz
Web Cam: No
Screen Size: 8.9″ 1024 × 600 colour LCD Monitor
Web cam: none
Wi-Fi: 802.11 b and 80.11g
USB: 2 USB 2.0 ports
Flash Card: SD card reader
Battery Life: 4½ hours max
Size: 238 mm× 195 mm × 42 mm
Weight: 1.39 Kg
Fizzbook Spin 8.9
The Fizzbook Spin was the second incarnation of this popular children's notebook computer and gave parents and educational organisations yet more choice of specification, performance and storage capacity.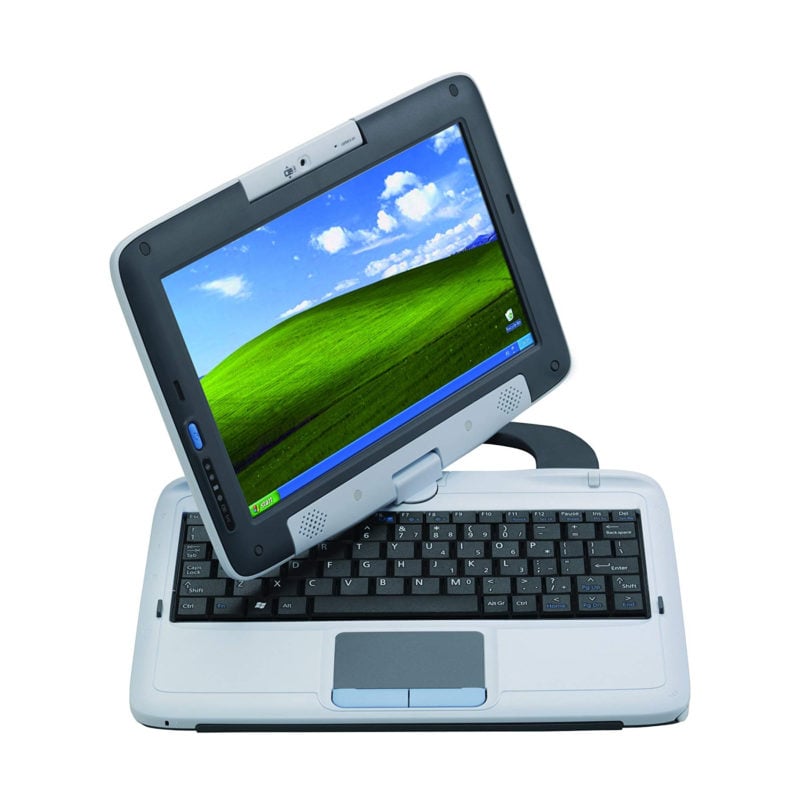 As with the rest of the Fizzbooks, the Spin was based on the Intel Classmate range of educational laptops which have proved to be the popular choice amongst consumers and educational authorities worldwide.
This unique tablet design featured a touch screen that swivels 180° so it could be used as a tablet or as a conventional style laptop computer.
The curved edges and rugged design made the Fizzbook Spin ideal for the demands of the journey from home to classroom as well as the demands of everyday use by young children.
Specifications
Processor: Intel Atom N270, 1.60 GHz
Operating System: Microsoft Windows UMPC Edition
Memory: 1GB
Screen Size: 8.9″
Touch Screen: 5-wire ITO resistive touch screen
Storage Capacity: 60Gb PATA Hard Drive
Wi-Fi: 802.11 b/g/n
USB: 2 x USB 2.0
Webcam: 1.3 megapixel
Battery Life: 4 hours max
Weight 1.2 kg
Fizzbook Spin 10.1
The Fizzbook Spin 10.1 was an innovative laptop computer designed specifically for the classroom and built upon the success of the previous fizzbook models with a larger format 10.1 inch and a host of innovative new features.
The Fizzbook 10.1 offered a lot in a small package: It was a durable and lightweight netbook built to withstand the modern classroom environment.
An improvement on previous versions the 10.1-inch display enabled even complex activities to be easily readable while still being compact enough to hold in the hand.
The Fizzbook Spin was unique in that offered students 2 modes of use, either as a conventional laptop with a keyboard and mouse pad or in tablet mode as an innovative touch screen operating interface.
When used as a laptop the screen could swivel through 180° for easy viewing by parents and teachers. The integrated webcam could also rotate to allow students to fully interact and the durable carrying handle is fully built in which made the Fizzbook spin fully portable and compact.
Specification:
Operating System: Windows 7 Starter
Processor: Intel Atom N2600 / 1.6 GHz
Memory: 1 GB DDR3
Storage: 32 GB SSD
Display 10.1″ LED backlight 1024 x 600 / WSVGA
Networking: 802.11n , 10/100 Ethernet
Battery: 3-cell – up to 4.5 hours
Dimensions (WxDxH): 26.9 cm x 20.85 cm x 3.61 cm
Weight: 1.59 kg
Pre-installed software:
SMART Classroom Suite (an interactive software program developed especially for teachers and students)
Ability Office (An office suite including a word processor, spreadsheets, image editing, drawing and presentation applications)
Intel Learning Series (an education specific suite of educational software and parent controls)
Fizzbook Spin Specifications
A Failed Effort
It's true to say that early models of the Fizzbook failed to live up to expectations in many ways. For a start, it never was sold at the much publicised £199 price point (more like £260) and the build quality could only be described fairly as 'poor'.
To add insult to injury, at around the same time as the Fizzbook was launched a new breed of small, lightweight laptops were coming to the market from the likes of Asus and Samsung which were better quality, more powerful and, above all, a lot more reliable. Netbooks, as they came to be known, took the market by storm and the Fizzbook failed to make any real headway.
The Fizzbook Today
The Fizzbook is now sold purely for use in schools via a network of authorised distributors.