For sleepovers, you can't beat these triple sleeper beds that have all the benefits of a traditional bunk bed with the extra space that only a double size bed can provide.
These beds are particularly popular with teenagers who might want the comfort of a double sized bed but who also need an extra bed for when one of their mates stop over.
There are some options that also split into two separate beds ( a double and a single) and these can prove to be very cost-effective over the long run.
It's worth pointing out that, typically, these beds take a standard double and single size mattress that, unless stated otherwise, you'll have to buy as additional items.
Atlantis Solid Pine Triple Sleeper – a solid wooden frame with a natural pine or white painted finish. Splits into 2 separate beds also. Available as a frame only or with a choice of mattresses. L206 × W142 × H155 cm. amazon.co.uk
New Novara Trio Bunk Bed – a solid pine triple sleeper frame available with a natural or white painted finish. Based on a traditional design with slatted head and foot boards, this bed can also be split into a regular double and single too. W203 × D132 × H150 cm. Available as a frame only or with air sprung mattresses. From £329 (plus standard delivery charge of £19.99) at very.co.uk
See Also
Trio Triple Stacker Bunk Bed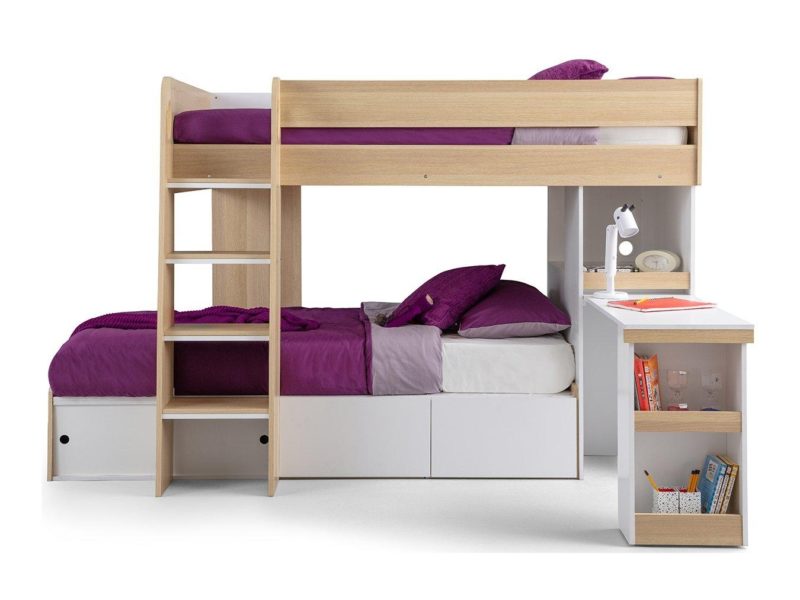 Eclipse Bunk Bed