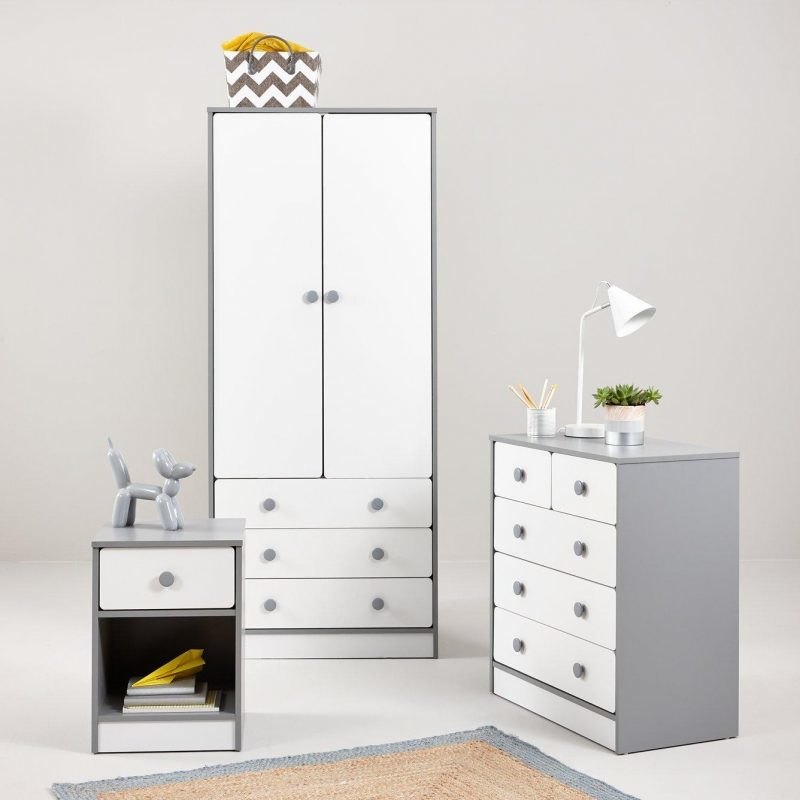 Peyton is a new range of children's budget bedroom furniture which could have been quite boring but with a few simple touches is actually rather fun.
The curved drawer corners and large round wooden handles really catch the eye, and the choice of oak grain and white or grey and white finishes is an added bonus.
The range includes two modern-style bed frames, a bedside storage unit, large drawer chest and storage wardrobe. There is just about the right number of options so it doesn't get confusing and the prices are very reasonable too.
Peyton Cabin Bed – a modern cabin-style single size bed with lots of useful storage in the base including 3 wide drawers, combined ladder/shelving and a 2-door cupboard. W194 × D97 × H80cm. From £249 (plus delivery)
Peyton Bunk Bed – a good looking bunk bed with a fixed ladder and 2 drawers in the base. W194 × D95 × H160 cm. From £349 (plus delivery)
Peyton 1 Drawer Bedside Chest – what could be a basic bedside unit is made so much more with an open storage space and cute drawer with a large round wooden handle. W39 × D39 × H54 cm. £49 (plus delivery)
Peyton 3 + 2 Drawer Chest – this unit has a touch of funky about it and lots of function too with 4 wide and 2 half-width drawers. W70 × D39 × H77 cm. £99 (plus delivery)
Peyton 2 Door 3 Drawer Wardrobe – combines a hanging space above with a set of 3 wide drawers below. W75 × D54 × H180 cm. £149 (plus delivery)
The Peyton Children's Furniture Range is available to order online from very.co.uk
(standard delivery charge for large items is £199 except for small items, the bedside unit only, which is £3.99)
You may also like
Aspen Bedroom Furniture
Monaco