This traditional children's bed is made from the timber of a single Irish ash tree. The colour and grain variations in the timber are the result of perhaps 200 years of nature's influence in the Irish landscape.
Ash is a wonderful timber. Ash is used for tool handles, oars, snooker cues, hurley sticks, it's been used in the chassis of cars, and way back it's been used to make longbows and spears.
The reason I designed this traditional bed to be made in ash isn't just for great strength, it's because I love how the turned bed-posts and spindles really show off the natural grain of this beautiful timber.
A natural timber should have a natural finish. I hate to see wood encapsulated within an industrial nitrocellulose lacquer – sure it looks good, but it feels like plastic and smells like a chemical accident. So I've finished this bed with a hand-rubbed blend of waxes that accentuates the natural beauty of the grain that gives you pleasure to the touch. And it smells nice, like good furniture should.
My beds are made to order, so your bed will be custom-made to fit your preferred choice of mattress. The bed shown here is made to fit a standard UK single mattress. (I don't supply mattresses, there's to many to choose from, so you'll need to buy this separately.)
Putting a bed together is something that many people hate. I designed this bed to be assembled by my six year old son, Bowen.
Two end-boards, two sides, and a solid ash slatted mattress support – just five sections. Each part is clearly marked, only one size of screw is used, and a great little screw key ensures simple and secure assembly.
I designed the night table with useful little everted ends. These rounded ends create bump-safe rounded corners, help prevent books toys and drinks falling off, and help you find the edge of the table in the dark.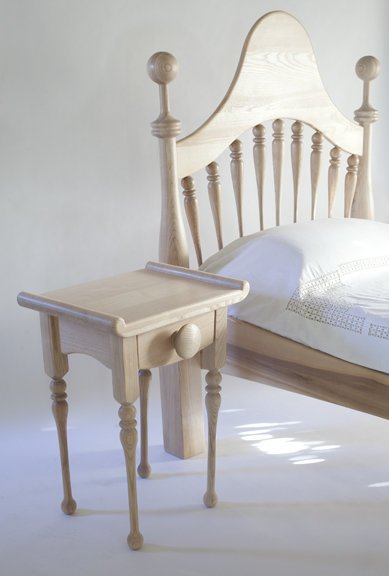 Like the bed, the whole table is solid natural ash, made from the same tree as the bed. The little drawer-box is solidly made using the organic strength of half-blind dovetails. The drawer slides naturally on polished ash runners, and have little stops to prevent the drawer sliding out by accident.
If you want to own beautifully natural hand-crafted furniture, please get in touch.